The Eagala Model at Good Samaritan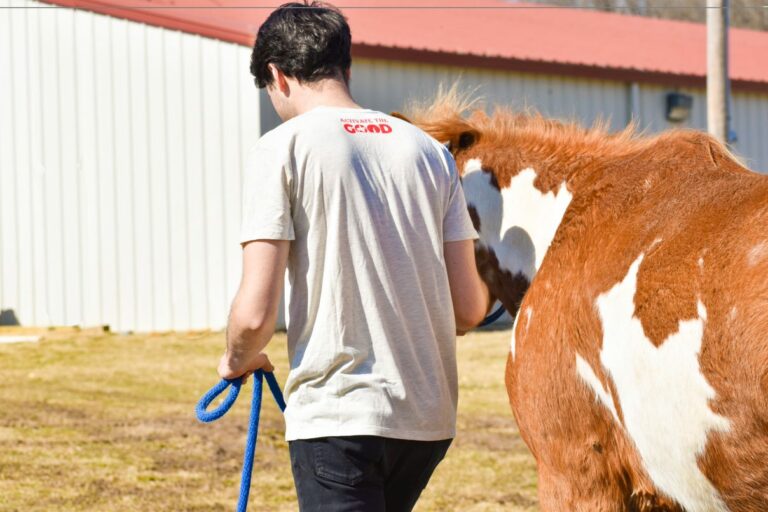 From the time the Good Samaritan Boys Ranch opened in 1959, horses have played an important role in helping youth heal. Today, several staff members at the Ranch are certified by the Equine Assisted Growth and Learning Association, or Eagala. The official Eagala website notes that "Eagala is a revolutionary mental health treatment model incorporating horses who are highly attuned and offer a safe space for clients to discover their answers within themselves." 
Two of our employees, Julie and Angie, are both Eagala certified and help run the equine therapy program for youth at the Ranch.  
Why horses?
Julie says, "The answer is that in order to survive, the horse, a flight animal, has a keen ability to accurately read its environment.  The horse is non-judgmental and quickly reacts to what is happening. For example, a youth enters the arena, having had a bad start to the day, the horse normally would approach the individual coming into the arena, but instead stay away. They sense the stress and instincts make them cautious.  As the youth relaxes, so do the horses. The opposite also happens, the youth comes in happy and the horses approach." 
Why Eagala?
Angie says that Eagala is unique because, "it's all on the ground." She notes that this makes it more accessible to everyone. If a youth has a fear of getting up on a horse, they are still able to participate in equine therapy using the Eagala model.  
An Eagala session happens with a team: a therapist, an equine professional, and, of course, the horse. Together, this team creates an environment to help a youth work through whatever they are struggling with. Ultimately, Eagala is all about communication. A youth will often find that they are more comfortable communicating through the horse than directly with an adult. Through an Eagala session, a youth may have an easier time connecting with their own struggles and expressing them than they would in a more traditional therapy setting. 
Eagala in Action 
Samuel*, a youth in the Specialized Care program at the Ranch, felt like he was not making any progress towards his goals. He felt stagnant, but struggled to express where this feeling came from. Wanting to make progress, but feeling unable to do so, led to Samuel feeling frustrated and discouraged. However, that all changed during an equine therapy session using the Eagala method.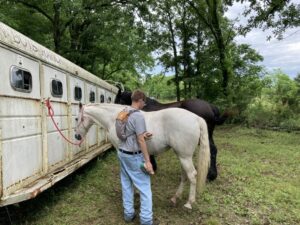 During this particular session, Samuel was asked to put some objects into a bucket and name what they stand for in relation to what might be holding him back in the program. Recalling the session, Angie explains,
"He named something 'worried he couldn't go home.' Another, 'worried he's going to backslide in the program.' And so on.  And then we assigned him a task to catch the horse, halter the horse, and brush the horse. But, as part of the task, he couldn't put the bucket down. He had to carry that bucket. And so the metaphor is that the bucket full of issues is slowing you down.
"After trying the task with the bucket, we said, 'What are two of those issues you think you could deal with?' And he named them, and we took them out of the bucket. When he went to his next session with his therapist, he immediately started talking about this experience. In the session, he said that he realized there are things he needs to deal with that he hasn't dealt with before. Ultimately, it ended up being a great therapy session." 
A Pivotal Moment
For Samuel, Eagala was key to working through fears that he had internalized. Naming and understanding those fears was a pivotal moment for him.  While he struggled to find the words to communicate these fears in a traditional therapy setting, Eagala gave him an alternative way to process and communicate. This, in turn, allowed him to begin exploring the fears that were holding him back in more depth with his therapist at the Ranch. After this Eagala session, he began to make the progress he wanted to in the program.
The horses at the Ranch are an integral part of the therapy process for our youth. And thanks to our Eagala certified staff, the youth can participate in unique therapy sessions designed to help them discover answers within themselves. 
*Name has been changed to protect the youth's privacy